About Gidea Park
Following the UK and European chart success of the medley style singles "Beach Boy Gold", "Seasons Of Gold" and "California Gold" in 1982, Gidea Park band leader Adrian Baker achieved a lifetimes ambition by being asked to join the real "Beach Boys" on tour in the United States, initially as a replacement for Carl Wilson who had left for a short lived solo career and, upon Carl's return the following year, as singer, guitarist and studio maestro. A role he still fulfills to this day.
During the quiet periods, Adrian returned to the UK to continue his live and recording works with Gidea Park. The band consisted of himself on guitar and vocals, brother Ian Baker on keyboards and vocals, Roger Whatling on bass and vocals, Alec Duncan on drums and vocals, Roger Nicholas (Joined 1992) guitar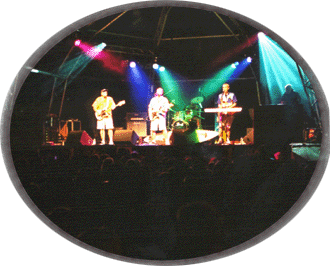 and vocals, Martin Lawford (Retired 1994) on rhythm guitar and vocals and Dave Walker (Deceased 1988) on keyboards and percussion. (Mick Groome played bass and vocals 1988 - 1996 while Roger Whatling was on holiday)
Adrian returned full time to The Beach Boys in 1990.
Gidea Park pride themselves on being more than just a tribute band and an outstanding harmony vocal band, they are, in fact, a show in the true sense of the word. Backdrops and staging are provided to create a summer sunshine setting, a full light show adds to the visual effect, Hawaiian shirts, shorts and our own custom built surf boards complete the look. Humour is never far away and the stage antics have been known to make even the band roar with laughter.
Adrian still makes the occasional guest appearance with the band. Other band guests have included Mike Love (yes THE Mike Love of the Beach Boys), long time Beach Boy / Brian Wilson collaborator Jeff Foskett, former Argent lead singer John Verity and watch out for some future dates with Original "Beach Boy" David Marks!!

The band have played extensively across the UK, Holland, Germany, France, Belgium, Denmark, Finland, Russia, Lanzarote, Morroco, Malaysia, Turkey, Portugal and The United Arab Emirates.

Gidea Parks music has featured in the James Bond movie "A View To A Kill" and "Karate Kid 3".
Gidea Park have appeared on TV shows (including 3 Top Of The Pops appearances) and radio broadcasts across the globe.

The band has appeared on shows with such artists as;
Shirley Bassey, Status Quo, The Corrs, Hear'say, Ronan Keating,
ZZ Top, Iron Maiden, Mud, The Sweet, Hermans Hermits,
Bob Monkhouse, Hot Chocolate, Manfred Mann,
and many more household names.